CES 2023: Get Consumed by ICOP's Vortex86 SoC
January 04, 2023
News
Make your way over to Booth #18947 at CES 2023 to visit with ICOP Technologies and learn how they are improving the application areas of industrial, medical, and transportation with its Vortex86 SoC.
Get to know ICOP and how its industrial grade X86 architecture chips can handle standard designs such as ISA and PCI. ICOP's multiple solutions include I/O interfaces, GPU, SATA, PCIe, UART, IDE/SATA, I2C, SPI, CAN, GPIO, USB for industrial applications.
The Vortex86 SoC series runs on Windows, Linux, and 32-bit Real-Time Operating Systems. A clock range of a single-core 300MHz to dual-core 1GHz embeds the L1 cache and L2 cache.
Specifications
---
Vortex86EX2

Vortex86DX3

Vortex86EX

Vortex86DX2

Vortex86MXplus

Vortex86DX

Vortex86SX

Frequency
600 MHZ (typ.)
1000 MHZ (typ.)
400 MHZ (typ.)
800 MHZ (typ.)
933 MHZ (typ.)
800 MHZ (typ.)
300 MHZ (typ.)
Core
Two
(600+400 MHz)
Dual
Single
Single
Single
Single
Single
Process
65nm
40nm
90nm
90nm
90nm
90nm
130nm
FPU
Yes
Yes
Yes
Yes
Yes
Yes
N/A
L1 Cache
16KB C/D Cache
16KB C/D Cache
16KB C/D Cache
16KB C/D Cache
16KB C/D Cache
16KB C/D Cache
16KB C/D Cache
L2 Cache
128KB
256KB
128KB
256KB
256KB
256KB
N/A
DRAM Bus
16-bit DDR3
2GB Max.
(2-bit ECC)
32-bit DDR3 2GB Max.
16-bit DDR3 1GB Max.
32-bit DDR2 2GB Max.
32-bit DDR2 1GB Max.
16-bit DDR2 1GB Max.
16-bit DDR2 512MB Max.
GPU
N/A
(Available with external
PCIe Graphic chip - Vortex86VGA)
2D Engine, CRT/LCD,
UMA, Dual Display
N/A
(Available with external
PCIe Graphic chip - Vortex86VGA)
2D Engine, CRT/LCD, UMA
2D Engine, CRT/LCD
N/A
N/A
HD-Audio
Yes
Yes
Yes
Yes
Yes
N/A
N/A
WatchDog
2
2
1
2
2
2
2
PCI Bus
PCI + PCIe x 2
PCIe x 2
PCIe x 1
PCIe x 2
Yes
Yes
Yes
ISA Bus
Yes
Yes
x-ISA
Yes
N/A
Yes
Yes
LPC Bus
N/A
N/A
N/A
N/A
Yes
Yes
Yes
USB
USB 2.0 Host x 2
USB 2.0 Host x 4
USB 1.1 Client x 1
USB 2.0 Host x 2
USB 1.1 Client x 1
USB 2.0 Host x 4
USB 1.1 Client x 1
USB 2.0 Host x 4
USB 1.1 Client x 1
USB 2.0 Host x 4
USB 1.1 Client x 1
USB 2.0 Host x 4
Serial Port
10 max.
9 max.
10 max.
9 max.
3 max.
5 max.
5 max.
GPIO Port
128-bit max.
88-bit max.
80-bit max.
88-bit max.
40-bit max.
40-bit max.
40-bit max.
Ethernet (10/100Mbps)
2
1
1
1
1
1
1
SD/MMC
3
2
2
2
2
2
N/A
SATA/IDE
N/A
IDE + SATA
SATA
IDE + SATA
IDE
IDE
IDE
Parallel Port
1
1
1
1
1
1
1
CAN
2
0
1
0
0
0
0
I²C
2
2
1
2
2
2
2
SPI
2
2
1
2
2
1
1
ADC
12-bit x 16 chan.
11-bit x 8 chan.
11-bit x 8 chan.
N/A
N/A
N/A
N/A
Package Size
19 x19 mm
31 x 31 mm
16 x 16 mm
31 x 31 mm
31 x 31 mm
27 x 27 mm
27 x 27 mm
Ambient Temp
-40 ~ +85°C
-40 ~ +85°C
-40 ~ +85°C
-40 ~ +85°C
-20 ~ +70°C
-40 ~ +85°C
-40 ~ +85°C
Benchmark & Power Consumption Index
---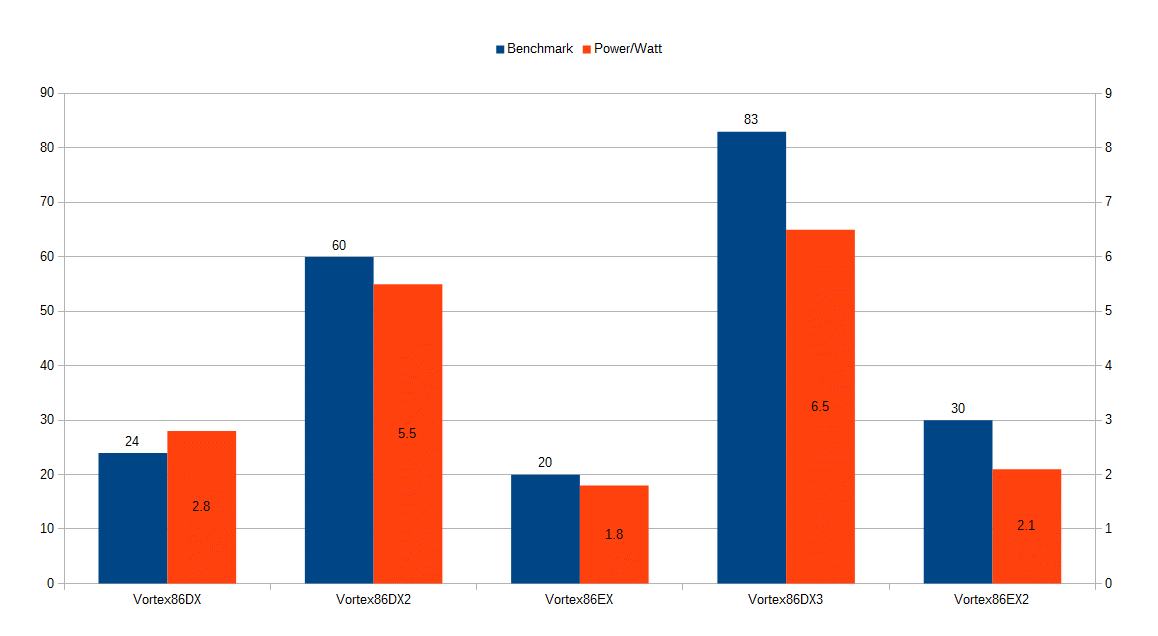 For more information, visit https://www.icop.com.tw/