BeagleBoard Jumps on the PolarFire Express
November 03, 2023
News
BeagleBoard.org released its BeagleV-Fire SBC employing Microchip's PolarFire MPFS025T FCVG484E 5x core RISC-V System on Chip (SoC) with innovative FPGA fabric. The solution comes in a small footprint with flexible I/Os that make it ideal for applications including IoT, robotics, and AI. The BeagleV-Fire is delivered with pre-installed Ubuntu for Linux compatibility.
"By harnessing the power of Microchip's PolarFire® FPGA SoC IC and embracing the RISC-V architecture, we are unleashing the potential for groundbreaking innovation within the open-source community," said Jason Kridner, Co-Founder of BeagleBoard.org
RISC-V CPU
4x 64-bit RV64GC application cores &
1x 64-bit RV64IMAC monitor/boot core
FPGA
23K logic elements (4-input LUT + DFF)
68 Math blocks (18×18 MACC)
4 SerDes lanes of 12.7 Gbps
Memory
Kingston 16GB eMMC
2GB LPDDR4 RAM
microSD
Networking
Gigabit Ethernet
M.2 Key E
support 2.4GHz/5GHz WiFi module
Connectivity
Expansion
High speed SYZYGY interface
22pin CSI connector
BeagleBone compatible 92-pin cape header pins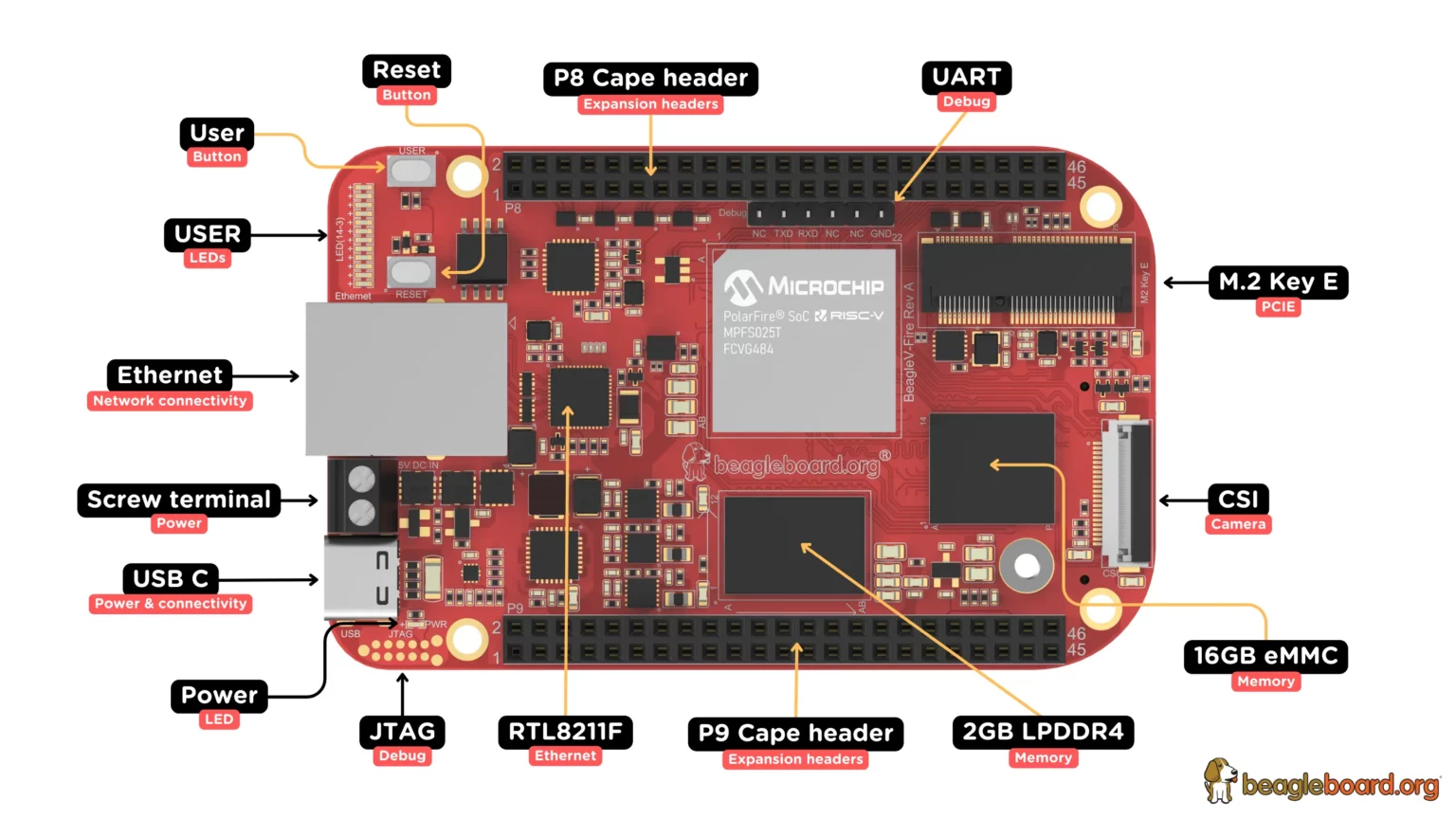 "We aren't just interested in openness at the board level, or even at the instruction-set level; we want to pave paths for everyone interested in what digital technology can enable in sensing and controlling the world around them and BeagleV-Fire marks significant progress down that path." ends Kridner.
For more information, visit BeagleBoard.org.